Dentures in Grove City, OH
Dentures are a popular solution for those who have lost all or most of their natural teeth. If you want to improve your oral health, look for a dental team that offers high-quality and custom-made dentures, giving you a beautiful and healthy smile.
Comprehensive Denture Care in Grove City, OH
At The Grove City Center for Dentistry, Dr. Simone and Dr. Lowe have years of experience creating high-quality dentures. By working with us, we'll determine the best denture treatment options for you. As a result, you'll regain your ability to chew easily, speak with clarity, and smile confidently.
So, if you no longer have all of your natural teeth or are missing a few of your pearly whites, schedule a visit today!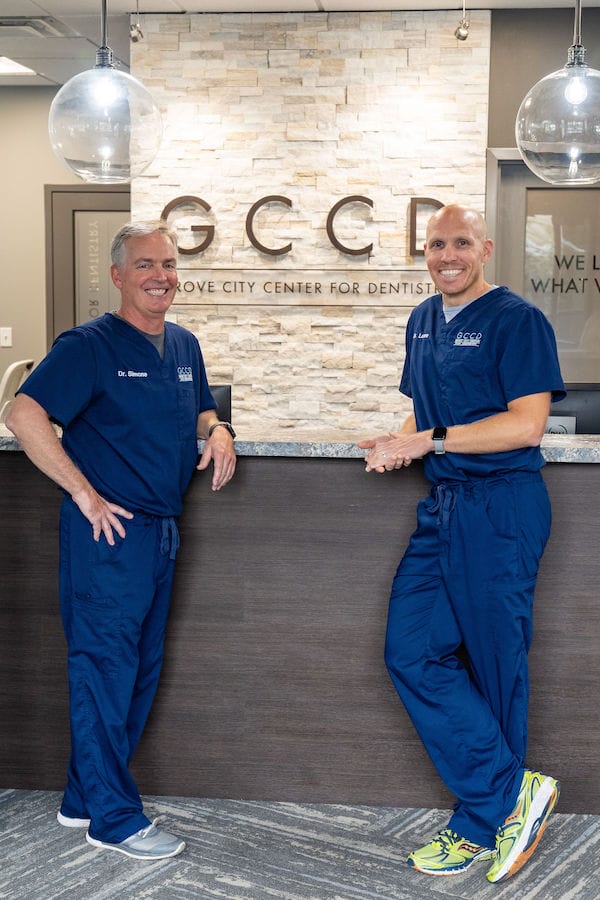 Dentures: Regain Your Confident Smile
Forget all the misconceptions about "false teeth" from the past. Today's technological advancements and our highly skilled dentists make the entire denture process much more comfortable and less painful.
Contact us today to schedule a consultation. We look forward to helping you achieve your ideal smile!
What Are Dentures?
Made from porcelain and acrylic, dentures (artificial teeth) replace any damaged or missing teeth. As denture experts, Dr. Simone and Dr. Lowe also ensure that your dentures match your natural teeth. This way, you don't have to worry that your replacement teeth look different than your natural ones.
Whether you have a few remaining teeth and need partial dentures or have lost all of your natural teeth and require full dentures, trust us to help you achieve a confident smile.
Benefits of Dentures?
In addition to giving you a beautiful smile, here are some benefits you get if you decide to replace missing teeth with dentures. 
Restore Chewing Function and Talking Ability
Missing teeth leads to eating and talking difficulties. Our high-quality dentures address speech impairments, allowing you to eat and talk comfortably. Since we custom-make our dentures, you can enjoy all of your favorite foods without worrying about your dentures coming unglued or moving around.
Restore Facial Structure
Dentures can restore or preserve your facial structure by preventing both your lips and cheeks from appearing sunken. Hence, in addition to giving you a natural and beautiful smile, you'll also improve your overall facial shape. 
Increase Confidence
Tooth loss is a common reason some people lack self-confidence. With our natural-looking dentures, you'll no longer feel self-conscious about your smile! 
Prevent Existing Teeth From Shifting Position
All of your teeth support each other. If you have a missing tooth, the rest of your teeth will move to close the gap. As a result, your teeth will no longer be in their original position. 
Even though dentures can't entirely prevent existing teeth from shifting, they can help slow the process, giving you time to look for a more permanent solution before the problem becomes serious. 
At The Grove City Center for Dentistry, we want your denture to be beautiful and functional. The creation process begins with our highly trained team taking custom impressions of your mouth. These impressions are then sent to our lab so we can construct your unique denture.
Dr. Simone and Dr. Lowe always consider every patient's facial structure and use a systemic, neuromuscular, and cosmetic approach when designing a denture. As a result, our dentures always fit the bone they will be placed on, creating the best possible function within the soft and hard tissues of the jaw.
These cosmetic dentures perform all the functions your teeth had before, such as giving you a beautiful smile, chewing, speaking, supporting the jaw, and keeping your airway open.
You can also click to learn more about dentures.
What Are the Different Types of Dentures?
We offer different types of dentures made from different materials that serve different purposes. Here are some denture options we provide. 
Full Dentures
Also called complete dentures, full dentures are dentures for both your upper and lower mouth. A full denture is also removable, typically made of acrylic or porcelain, and held together by a metal base or an acrylic.
We recommend full dentures to patients who have lost all of their natural teeth. 
Immediate Dentures
We used immediate (temporary) dentures immediately after extracting a tooth. The purpose of this type of denture is to protect your gums while you're healing from your recent tooth extraction. Using immediate dentures will also make the transition to permanent dentures easier and more comfortable for you.
Upper and Lower Dentures
Upper dentures are dentures for the upper teeth. Hence, if you want to replace multiple missing teeth in your upper jaw, we recommend this type of denture.
On the other hand, lower dentures replace missing or damaged teeth in your lower mouth. We also shaped this type of denture like a horseshoe so your tongue will have sufficient room, preventing you from feeling any discomfort. 
Implant-Supported Dentures
Implant-supported dentures, also called overdentures, is a type of denture wherein a denture snaps onto two or more implant fixtures placed in the jawbone. This minimizes slippage of dentures and allows for greater strength and function.
>Many people who wear dentures are transitioning to implant-supported because of their superior function and durability when compared with traditional dentures. Dental implants and implant-supported dentures give our patients better chewing function and a more natural, beautiful appearance. 
We recommend implant-supported dentures because they are more effective at supporting bone structure and maintaining strength. Also, our patients report little or no long-term discomfort with this type of denture.
Implant-Supported Denture Procedure
To process begins by placing two or more implants within the jaw bone. Since it takes some time for the implant to bond with your bone, expect some healing time, which usually lasts up to six months.
During the healing process, we create traditional dentures for you to wear. Once the implant placements are ready, we uncover each implant and create a new set of dentures. The new dentures, often called snap-on dentures, snap onto the implants and function much like natural teeth.
Caring for Your New Dentures
Just like your natural teeth, you need to clean your dentures daily. By taking care of your dentures, you will not only avoid gum disease and enjoy the benefits mentioned above, but you can also have high-quality replacement teeth for 10-15 years!
Here are some tips for taking care of your new dentures:
Rinse your dentures after every meal to remove food particles and plaque.

Brush your dentures twice daily using a soft-bristled brush and mild dish soap. Avoid using toothpaste, as it can be abrasive and damage the denture's material.

Soak your dentures overnight in a mild denture cleaner to keep them moist and prevent them from drying out.

Avoid using harsh chemicals, such as bleach, when cleaning your dentures.

See your dentist regularly for cleanings and check-ups.

Be gentle when handling your dentures, as they can break if dropped.

Store your dentures in a safe place when you're not wearing them.
Trust Our Experienced Dentists for Exceptional Denture Care
The friendly team at Grove City Center for Dentistry handles all types of dental cases –– from simple to complex. We use the latest technology and techniques to ensure that our patients are in good hands and receive the best possible care.
If you're considering dentures in Grove City, OH, we invite you to schedule an appointment with us. We will be happy to answer any questions and help you choose the best option for your oral needs. 
Call us today at (614) 683-2319 to get started.