A tooth emergency comes at the most inconvenient times –– before leaving out of town, for an important work presentation, or taking memorable family pictures. In addition, a chipped or cracked tooth can be painful and lead to infection if left untreated. So, how can you resolve the problem as soon as possible? 
Read on to learn about same-day crowns.
What Is a Crown? 
When tooth decay is so extensive –– past the point of fixing it with a dental filling –– a crown comes in. A dental crown is made of metal, porcelain, or ceramic material and looks and feels like your natural tooth. The dentist can even design the crown to match the color of your existing teeth. 
In addition to decay, the following situations also call for a dental crown:
A chipped tooth

Tooth loss from biting on hard candy, such as a Jordan almond or a jawbreaker

A lost tooth from getting hit in the face

A discolored, dented tooth from aging
Many patients value dental crowns, knowing they can restore their teeth to functional, beautiful pearly whites. So, what is the process of placing a dental crown? 
Traditional Crowns
You may sign up for a traditional crown if you do not need to replace your tooth immediately. 
First, you'll schedule a dental visit where a professional will take a mold of your existing tooth and send that tooth into a lab to construct a permanent crown. This process can take 2-3 weeks and requires a follow-up visit to place the crown in your mouth.
While you wait a few weeks, the dentist will send you home with a temporary crown that will hold the spot until the permanent crown is ready. Note that the temporary crown can fall out and is less sturdy than the permanent crown. To avoid this problem, follow the care instructions given by your dentist. 
This solution is good when you are staying in town –– if the temporary crown falls out, you can pop into the office and get it back in place. However, if you travel, go out of town for a wedding, or have an important work trip, you want a more permanent solution. 
That is where the benefits of same-day crowns come in. 
Same-Day Crowns
Same-day crowns can be finished with just one appointment. Walk in with a broken/missing tooth, and then walk out with a new, permanent crown that looks and feels like a regular tooth. There are no special instructions for a same-day crown. Thus, you can return to your routine and eating habits after receiving your same-day crown.
Arrive at your appointment, and the dental professionals will prepare your mouth for the permanent crown. Sometimes, you must have a root canal or fill down a partial tooth to prepare for the same-day crown. 
Using CAD/CAM technology, the team will take a picture of your mouth, and the crown is digitally constructed right there in the office. The model is then used to build a permanent ceramic crown. Within an hour, the crown will be ready to be placed in your mouth. 
Benefits of Same-Day Crowns
When time is precious, booking two appointments with the dentist can feel inconvenient. If you can get your crown done in one appointment, why not take it? So, in addition to having a new crown within a single appointment, same-day crowns also give you the following benefits:
Immediate Restoration of Function:

While a dentist places a temporary crown, any tooth difference can affect your smile, speech, and your confidence. A tooth that feels off can affect your everyday life if you are constantly aware of the temporary crown and what you might do to cause it to fall out. On the other hand, you can eat, talk, and smile as usual with a same-day crown. 

No Accidents:

A temporary crown may fall off, causing trauma to the surrounding gums and teeth. You may even bite your tongue or chew your cheek when you discover the temporary crown fell out. 

No Infections:

If a temporary crown falls out while a root canal is still healing, it leaves your mouth susceptible to infection. Your same-day crown can protect your mouth from any pockets where food could get stuck. 

Optimal Comfort:

Using CAD technology, your tooth's digital mold is exact and optimized for comfort. So, you don't have to worry about the tooth feeling too big in the space or the bite feeling off. 
Same-day crowns are convenient and contribute to comfort, oral health, and function. Talk with your dentist to make plans for a same-day crown. 
Downsides of Same-Day Crowns
If you do not have an upcoming event, you opt for the traditional route for a crown with multiple appointments. Besides, same-day crowns have these downsides: 
One downside to a same-day crown is that ceramic is less durable than porcelain. Traditional crowns are sent away to a lab and made out of porcelain, while same-day crowns are ceramic. Ceramics can chip or scratch more easily than porcelain. 

Another downside to same-day crowns is the color match. The lab will match the color more precisely to your teeth using porcelain. Ceramics can be more difficult to duplicate coloring, although the results are usually hard to differentiate to the naked eye.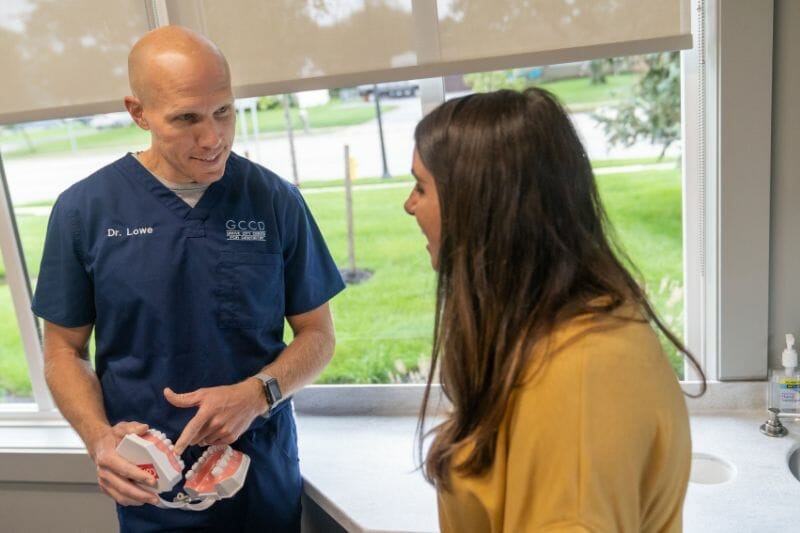 Schedule a Same-Day Crown with Your Trusted Dentist
Knowing that a same-day crown is available opens up more flexibility with your dental treatment plan. Talk with your dentist about the best options for your oral health. When you have a trusted dentist to discuss fixing your chipped or decayed tooth, you can rest assured that your investment will restore your beautiful smile!
Once you have the information, you can now make the best decision for your dental health plan. 
Contact us to learn more about choosing GCCD for your dental practice.